I was recently searching for the perfect kids table for our hall downstairs right outside of the play room. I am so excited about getting everything set up and I really want it to be done so we can just enjoy it. The one I had settled on for purchasing was the Altra Folding Owl Pattern Kids Table/ Ottoman Set by Cosco. It is collapsible and easy to store, and looks sturdy enough the little one who would be using it. I love things that can be easily put up or transformed and this seemed to fit the bill but at $60 seems a bit steep.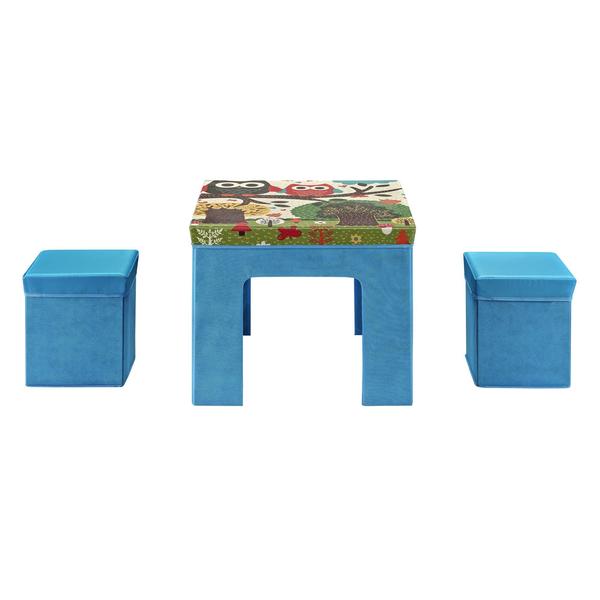 After some more searching online I had mostly given up on finding something reasonably priced. Yesterday I happened across a beautiful vintage solid wood end table at the local Habitat Restore for about $22.
My favorite thing about this is that even though I painted it, I can still later use it as just an end table instead of a kids table, Also the 'chairs' I made from crates will make great matching foot stools  later on. 
Ignore the picture frames, that was a failed DIY project. So I just picked up 2 crates from Michael's and painted them grey, then painted alternate planks on the side yellow for an accent. I also took the knobs off the drawer to the table and painted them yellow. We had some scrap 3/4′ plywood and a jigsaw so we cut out seats for the top of the crate. My plan had been to buy travel pillows from Wall-Mart as the cushions to go under the fabric and staple the fabric down but when I went to get them I realized that travel pillows were $3.94 and a regular pillow was only $3 so I bought one big pillow and just cut it in half. It worked perfectly. Also I was out of staples for my staple gun but had some small nails so I just nailed own the fabric by hand. It worked great but was pretty time-consuming. All in all I love how it turned out. We plan in putting a small piece of 1/2″ board under the seat on either side so that it won't slide off. I toyed with the idea of hinges or something like that to make sure little sister couldn't knock it down on herself but because the plywood is 3/4″ it is so heavy that it really wold be hard for the little one to get it off at all without help.
I am very pleased with it overall, I am not sure if it works for the location I planned on putting it in but I am sure it will be perfect for somewhere, and I love that the 'seats' provide extra storage for her art supplies. I might sew a lining for the crates just so you can't see what is inside.
For anyone who wants to do one I will add a list of supplies and approximate cost
$22 Thrift Store End Table
$20 Crates from Michaels (2 with coupons)
$4 One yard Fabric (Wall-Mart home decor Fabric section)
$3 Pillow (or foam or stuffing)
A full afternoon without the little one to work: Priceless. (so glad I have amazing friends)
Things we had on hand, Paint, scrap wood for seats and a saw to cut with, and a hammer and small nails to secure the fabric.
Total about $50